Getting Started
The Access Control app (link to App Store) is intended to replace the iOS Box Office app we are currently using for scanning.
This app is currently a beta product and is being thoroughly vetted and tested before full release. If you encounter any issues or have feedback please reach out to your Client Service Manager.
This app only works on iOS 15 or later. If your device is not up to date, you will need to download the last software update in order to be able to use the app.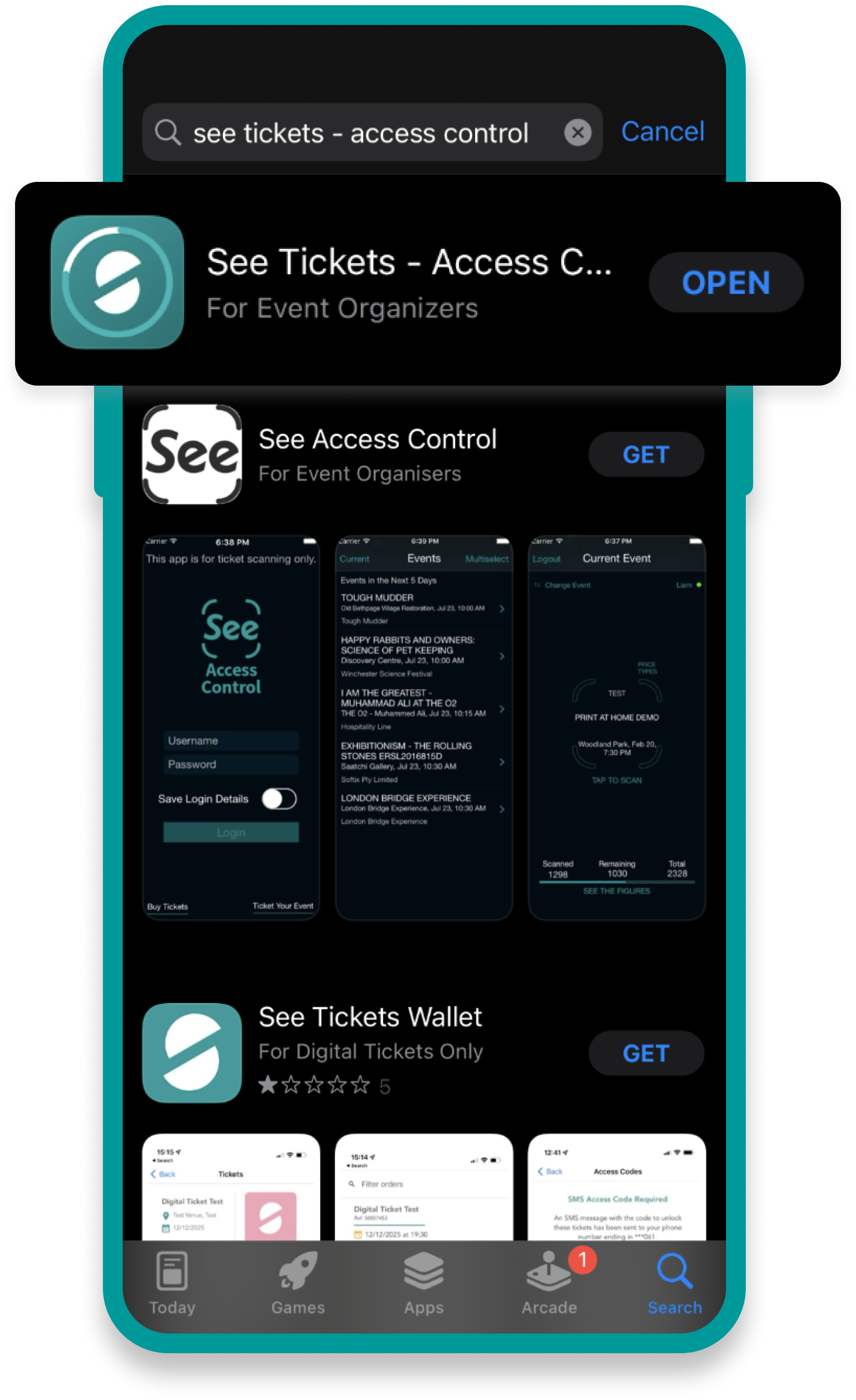 Features
Dashboard tab

Event selection: Pre-select multiple events and view a stats dashboard for each event. Use the arrows to navigate between dashboards.

View details

Type: Review your ticket types scanning progress by ticket type.

Mode: Review your scans by scanning mode (Ins & Outs)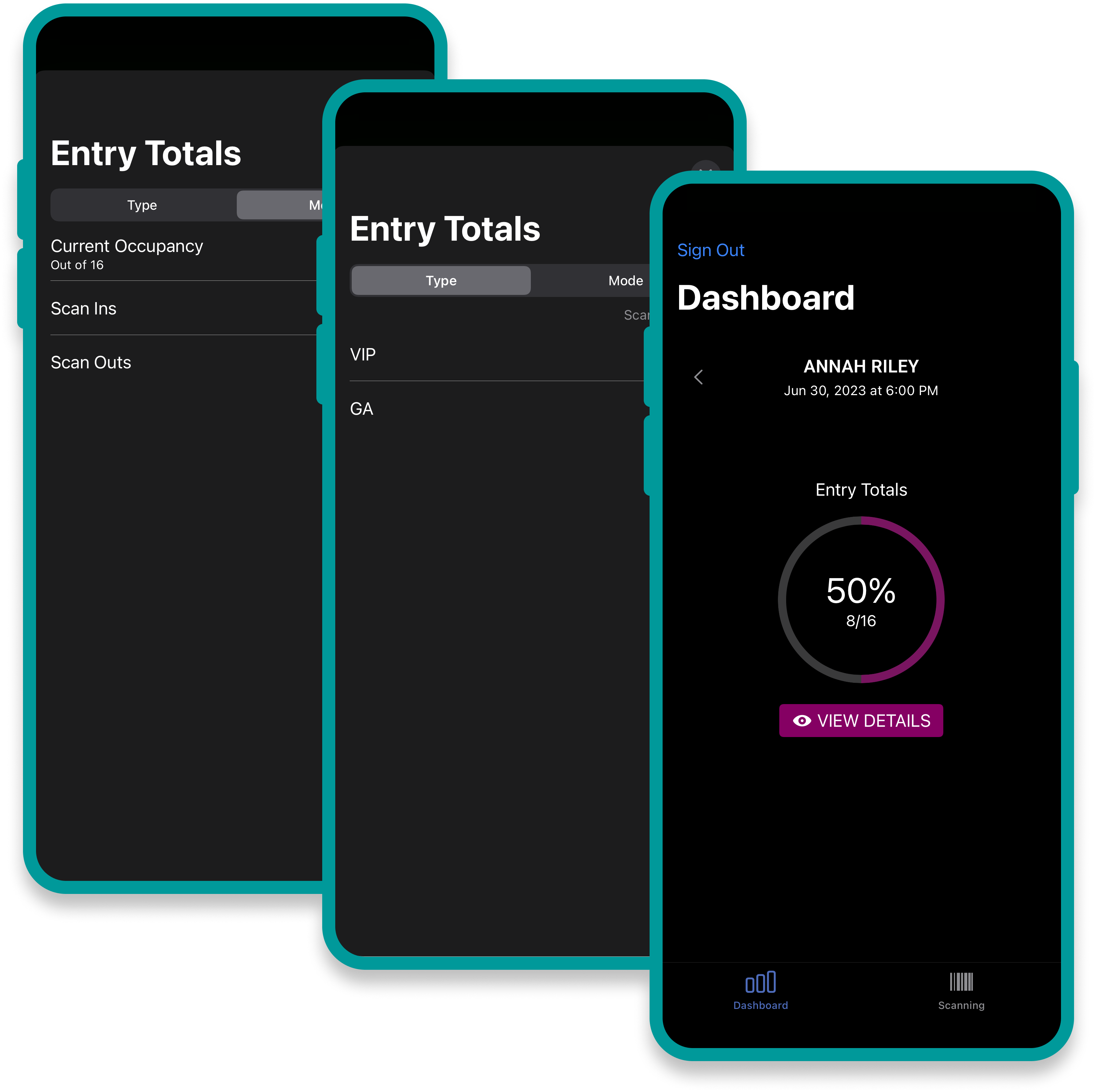 Scanning tab

Set the following parameters for each of the events selected.

Dates: Choose a specific date to scan if the event is multi-day.

Ticket types: Select specific ticket types to scan for each event.

Scan type: You will be able to choose and scan any use case: Entry (one scan), in, out or verify.

Scan by laser accesory, camera, handkey ticket number, or search by name and select to "scan in".
Quick glance of last 10 scan stats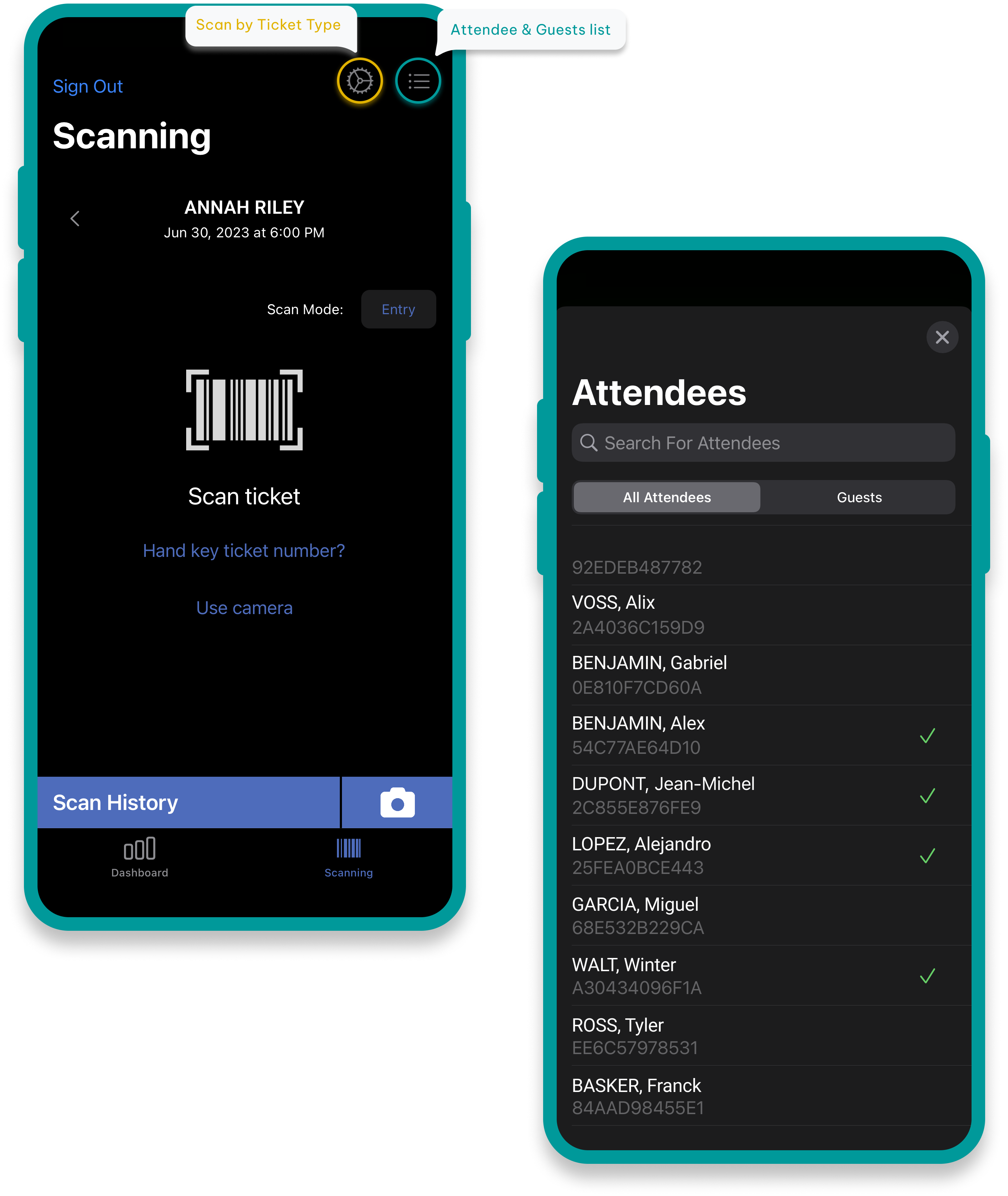 User Guide
Sign In
Sign in to the new app by entering the email address and password linked to your See Tickets account or event.
Event Selection
Once successfully logged in you will be able to select which events you would like to scan for. You can search by name to find events that the user has access to, either the complete list or just pre-selected ones. When all events needed have been selected and you click Done at the bottom you will be routed to the app's Dashboard tab.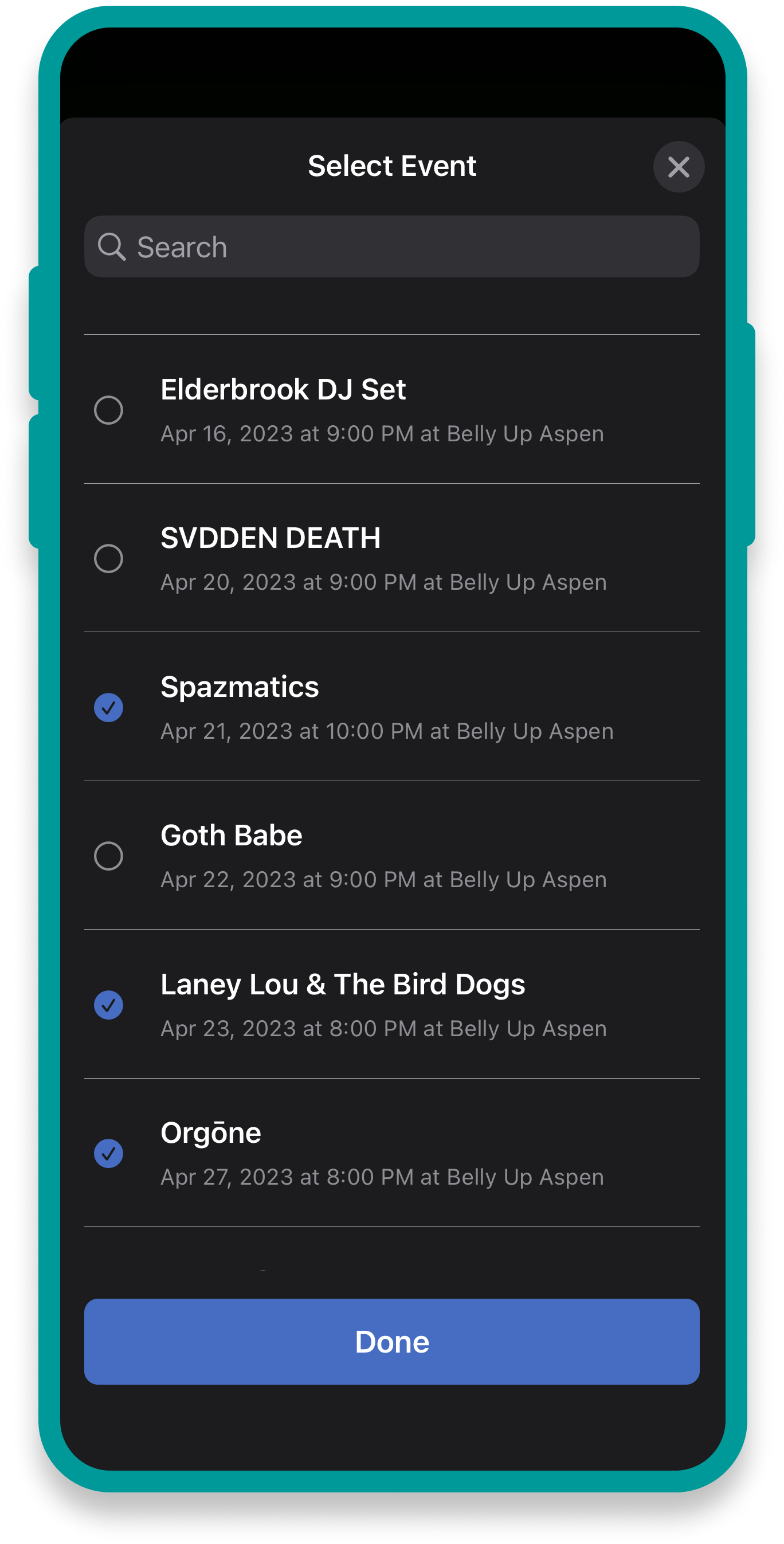 Modify Selected Events: From the Scan or Dashboard tab, tap on the event name to be taken back to the event selection page.
In Scan Settings you will be able to set a specific scanning day (for multi day events) and to choose which ticket types you are scanning
Click the left and right arrows to scroll between events to customize the scan settings on each. Once you are on the desired event, click the gear icon at the top left corner to navigate to that event's ticket selection setting page.
Date: Scroll right through the dates to select a specific one. The app will automatically pre-select the right one.
Ticket Types: You can search by ticket names and tickets will be sorted by Tabs → Groups → Ticket order chosen at event creation.

You can select one or more, and even select by group (clicking on group name)
Mode Selection
You can choose between the different kinds of modes allowed by the platform
Entry (One scan only)

In (to be used for ins/outs in tandem with a scanner set to Out)

Out (to be used for ins/outs in tandem with a scanner set to In)

Verify (without actually scanning)
Scanning
Handheld Laser Scan
The app is automatically ready to start scanning when on the main screen. To scan, hold the side button on the handheld to activate the laser. Point the laser at the barcode or QR code until it makes a beep noise.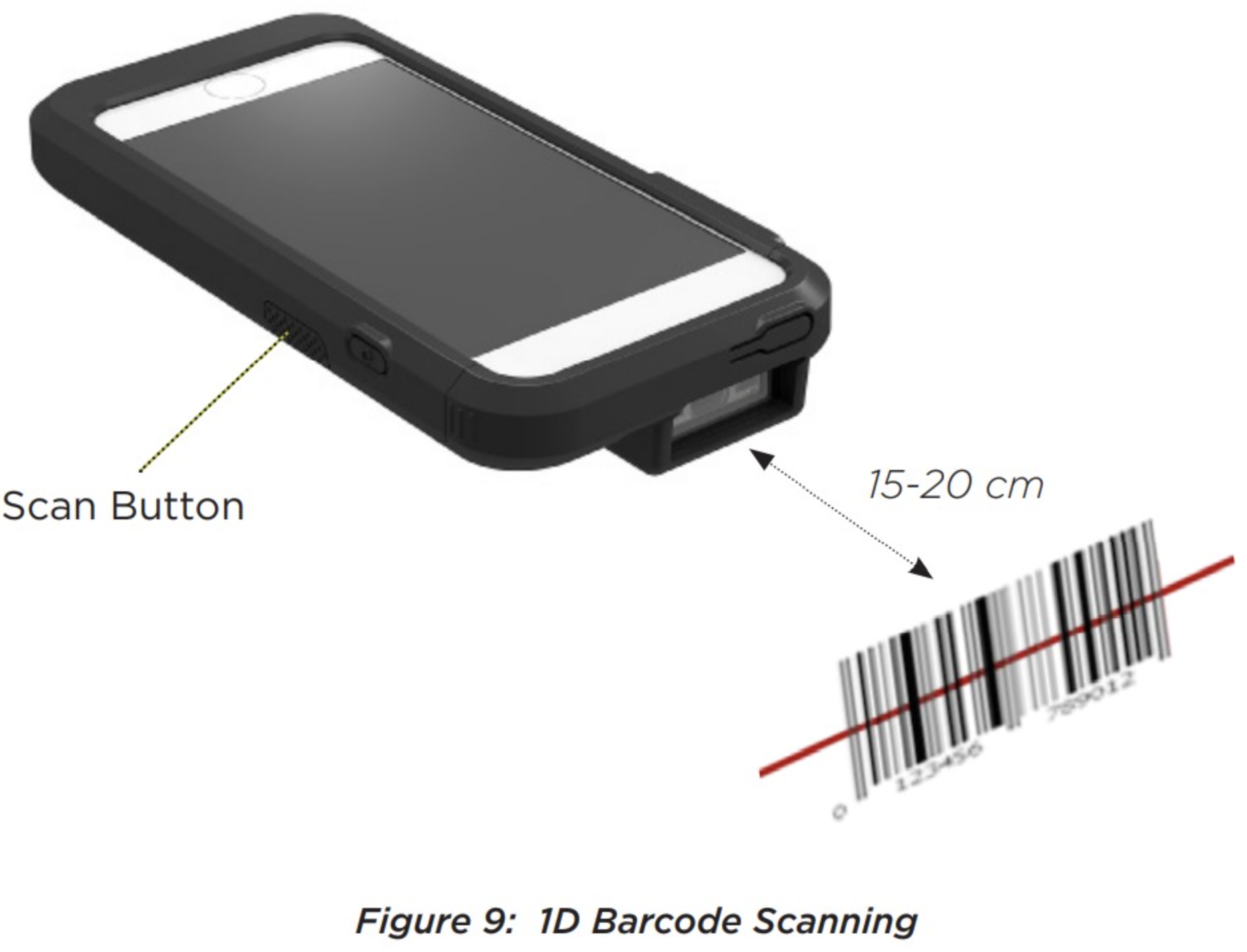 Camera Mode
If you are using an iPhone to scan, press the camera option below the ticket number option. This will turn the camera on to read the barcode or QR code. This works just as quickly and efficiently as a handheld laser scanner.
Manually Scan
You can also input the ticket number manually to scan a ticket.
Scanning Results
These are the three (3) possible results and the details of each scan:
Valid

Duplicate (if ticket has already been scanned)

Invalid (If ticket is fake, or does not belong to the preset settings)
There is one sound for valid scans, and one for duplicate and bad scans.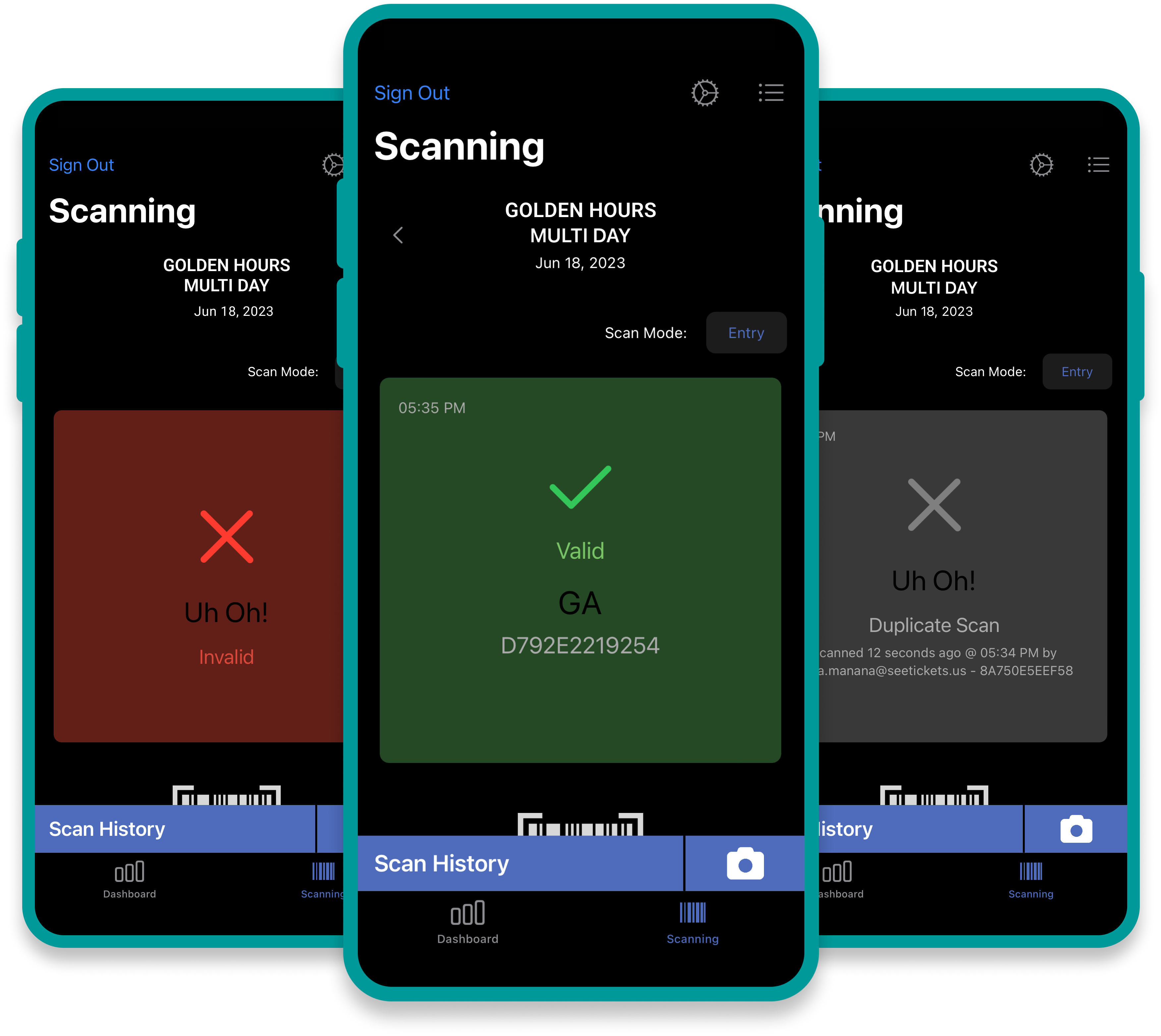 History
You will also get the last 10 scans you did on your device in case any duplicate needs clarifying.
Attendee & Guest List Check-in
If you click in the upper right corner of the app, at the list icon, the app will display 2 tabs:
Attendees: A list of all the tickets on the event by their order's name. -If an order has 2 tickets, it will display the order name, but the ticket number below it.
Guest List: A list of guests uploaded from the guest list manager.
In both cases you can search by name, and tap in to the name of a user to check-in the ticket.
Important: You cannot uncheck any attendee. Once they are checked in you cannot check them out.