Update [6/23/23]: We've noticed an issue with users who have recently changed their password on MFA where that new password is not getting updated on our non-MFA login areas (mostly iOS scanning apps, new and old). If you remember or have saved your old password in your scanning apps, then you can still enter that. OR you can fix this by updating your app's password to match your MFA password by using the Forgot Password link on the Manage | See Tickets US login page.
Multi-Factor Authentication protects user data, which may include personal identification or financial assets, from being accessed by an unauthorized third party. In addition to username and password, users will need to enter a code delivered via text message.
See Tickets US has implemented multi-factor authentication (MFA) to our Manage sign-in page for our brand & client users to improve the security of accounts and protect our client data.
The See Tickets US Access Control app does not require MFA.
Getting Started
Before using MFA to sign in, users will need to set up their second form of authentication.
You will be able to choose from two options for MFA:
Text message (SMS)
Authenticator app
After set up, you will do the following each time you sign in:
Enter the email address and password associated with your See Tickets account.
Find your six-digit numeric code via SMS or authenticator app.
Enter this code on the following page when prompted.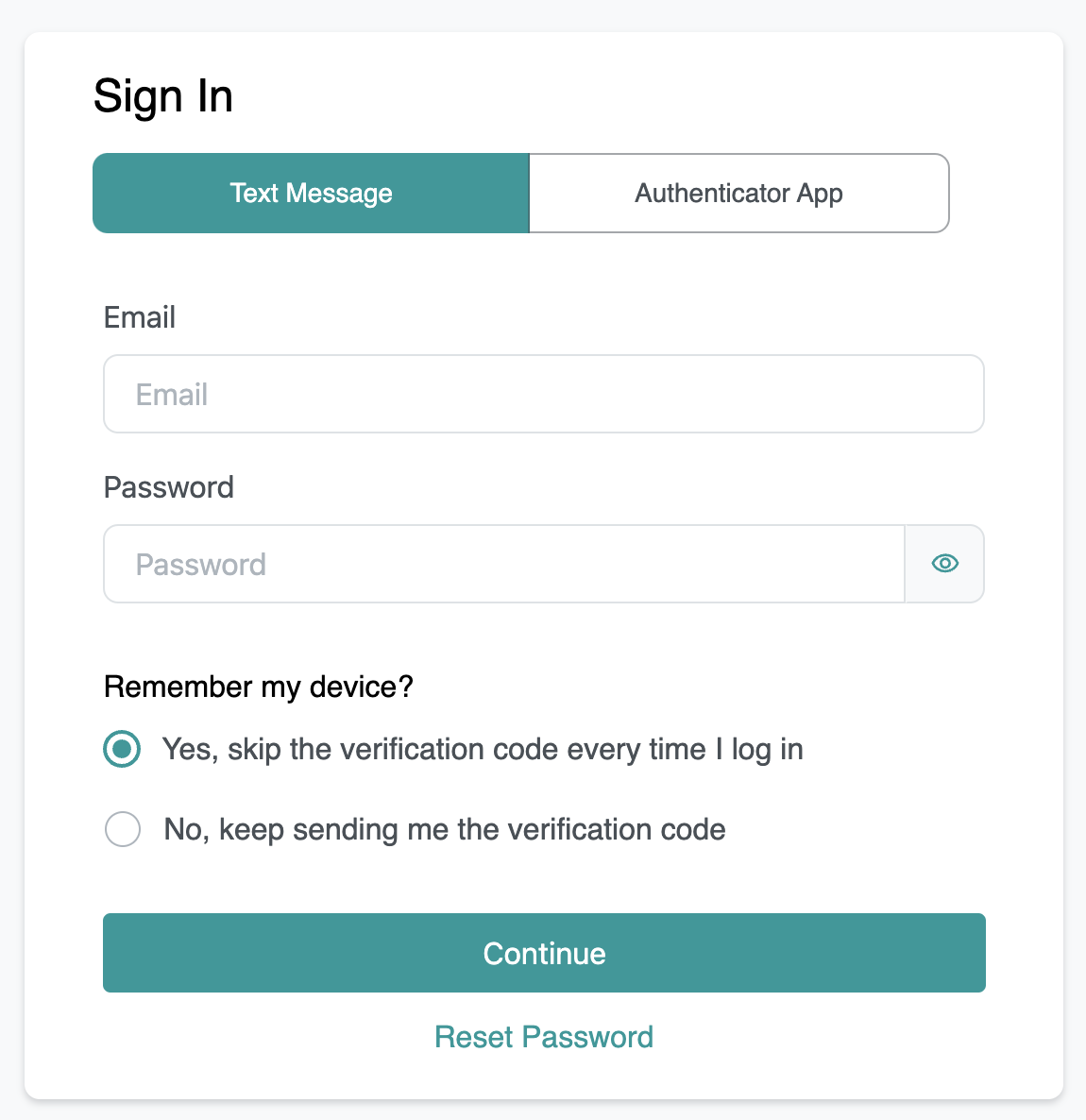 Setting Up Text Message (SMS) Authentication
Text message (SMS) authentication is the most common form of MFA.
On the initial SSO page, select "Text Message" as your form of authentication, enter your email address, and click the "Continue" button.
Select your country code, enter your mobile phone number, then click "Continue".
Select your country code, enter your mobile phone number, then click "Continue". You will receive a text message with an authentication code.
Return to your web browser, and enter the code when prompted.
After successfully entering your code, you will be taken to the usual See Tickets US sign-in page where you can login with email and password.
Setting Up an Authenticator App
Authenticator apps are the most secure form of MFA. This is because they are linked directly to your device, so hackers cannot intercept codes on the mobile network.
Using an app is also extremely convenient when you may be working somewhere that does not have cellular service but does have WiFi.
On the SSO page, after selecting "Authenticator App" as your form of MFA, enter your email address, and click the "Continue" button.




Download the Authenticator app of your choice from your mobile phone's app store. Google Authenticator, Authy, LastPass Authenticator are trusted options.

Using the authenticator app, scan the QR code present on your web browser. Example:

A code will appear on your authenticator app. Enter the code, then click the "Continue" button.

After successfully entering your code, you will be taken to the usual See Tickets sign-in page where you can login with email and password.
Remember My Device
Our Remember My Device feature offers you two simple choices: 'Yes' for convenience or 'No' for added security. Opting for 'Yes' allows your trusted device to remember your login, streamlining future access, while 'No' ensures an extra layer of protection with each login.
FAQs
Q: What if I lose access to my MFA device?
A: If you get a new phone, you should be able to continue using the SMS route without issue. If you get a new phone number, your MFA will have to be reset. Some authentication apps retain your second factor after changing devices, but if not, we can reset that option as well. We have backup measures in place to assist you in regaining access to your account. Please refer to the Jira process in the Troubleshooting section below.
Q: Can I use MFA on multiple devices?
A: Yes, depending on the MFA method you choose, you can usually set it up on multiple devices. For example, if you use an authenticator app, you can install it on your smartphone and tablet. To do so, you will have to scan the provided QR code at the same time with as many devices as you wish to set up. However, it's essential to keep track of your devices and ensure they are secure to maintain the integrity of your MFA setup.
Q: Is MFA secure?
A: Yes, MFA significantly enhances security by adding an extra layer of protection. However, it's important to choose strong and unique passwords, use secure devices, and keep your MFA methods up to date. Additionally, we continuously monitor the security of our MFA system and take necessary measures to ensure its reliability and effectiveness.
Q: Are there options that don't require using a cell phone?
A: We currently support two options: SMS and use of an authentication app. Some authentication apps can be used without use of a cell phone (i.e. Authy) via a computer or tablet device. We recommend using an authentication app if cellular service is limited where your event is being held. Authentication apps rely on wifi and not on cell service.
Q: What do I do if my team shares See Tickets login credentials?
A: We do not recommend sharing login credentials for security reasons. If your team must share credentials for some reason, please reach out to your client service manager.
Troubleshooting
To reset, remove, or move your MFA credentials to a new device or phone number, please contact your assigned Client Service Manager. If you do not have one, email clientsupport@seetickets.us.
Be sure your device's operating system (OS) AND browser are up to date.

For security reasons, only major browsers should be used: Safari, Google Chrome, Firefox, Microsoft Edge.

If you get a message that says "User Does Not Exist":

Go to manage.seetickets.us page

Click on Forgot Password at bottom left.
Reset your password. Make your password strong (minimum 12 characters, add a number, add a symbol).
Go back to email about MFA setup and click on the link.
Follow process above.