The See Tickets Affiliate Network is an API-based feed, allowing marketplaces to ingest event information. This feed provides a reliable, open, scalable way to help venues, promoters, and festivals sell more tickets and reach far more audiences from multiple niches. Benefits:
See Tickets Clients will reach more targeted audiences and sell more tickets.

Current Affiliates will be able to gather more info and integrate it in a more intelligent way, while still getting paid.

Fans will be able to find their events in the marketplaces they follow with a whole new level of detail.
Getting Started
The Affiliate Network includes 2 parts:
This article is focused on the web application (https://affiliates.seetickets.us/), whose main goal is to give visibility to the affiliate partners on their attributed sales.
Sign In
To access, go to https://affiliates.seetickets.us/ and enter your credentials linked to your See Tickets account.
Email

Password

Multi Factor Authentication

You can choose to authenticate either with a text message or an authenticator app.

If you have not set up MFA for one or none of the MFA methods, you will be prompted to set it up.
Once you have authenticated yourself, you will land in your stats dashboard.
Stats Dashboard
The stats dashboard is a high level view of your attributed sales at the moment of request. This is only a guide to help you understand funnels and conversions.
Important: The dashboard is pulling data that can change if a ticket is refunded or charged back, so you should not consider the financial information on this screen as final for your reports.
The dashboard has 3 sections:
Filters that manage the displayed information.

List of events with at least 1 sale attributed to you.

Total tickets sold.
Filters
By default, the filter brings the current month to date data. You can remove the filter by removing the date. You can also select another date range if desired.

To filter, enter:
Start date

End date

If you want to filter by:

Sales: The moment a sale was made and attributed to you.

Event: The event's date, which will bring events that had at least one ticket sold attributed to you regardless of when the actual sale was made.

You will not be able to select future dates. Data is only available up to the time that the request is made.
List of events
Based on the filters you selected, a list of events will be displayed, and you will have the option to download a CSV report with the exact same information.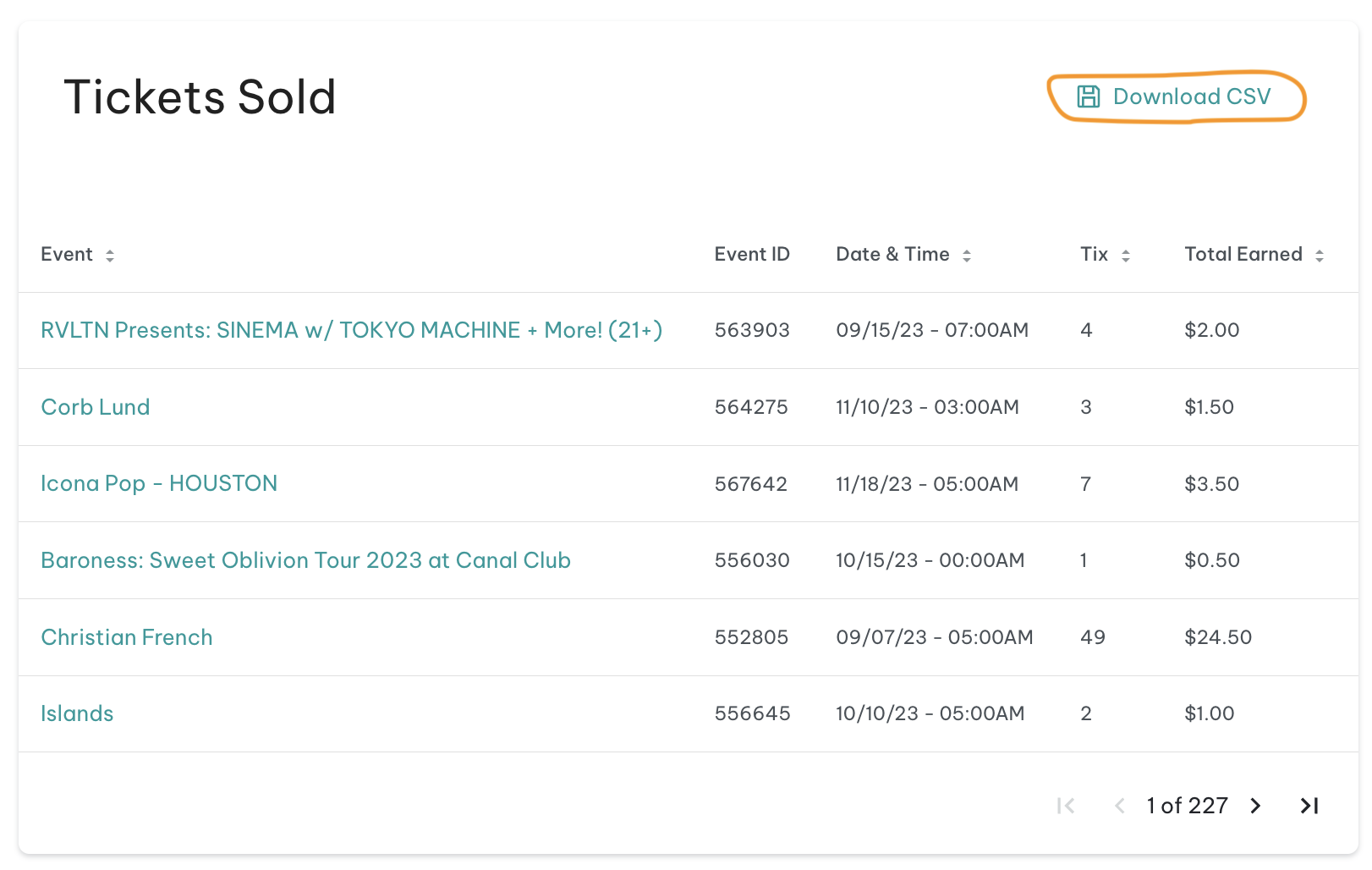 Definitions:
Event: Event's name

Event ID: See Tickets Event ID.

Date & Time: Event's start date & time.

Tix: Number of tickets attributed in the event attributed to you.

This quantity will include refunded or chargeback tickets.

Total Earned: Amount earned by the tickets attributed based on the mark up for your account.

Important: This is a high level guide since refunded and charge back tickets will be affecting this amount in real time. Do not base your financial analysis on these amounts.
Totals
The total amount of tickets attributed to your affiliate account based on the filters applied before.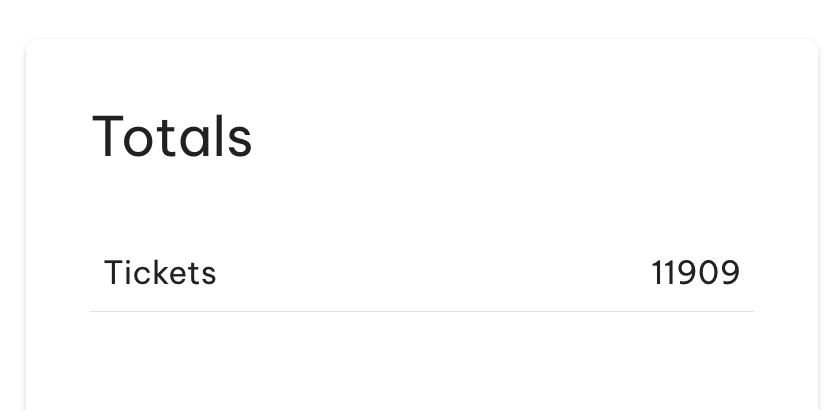 Invoices
The Invoices section is your financial reporting. Invoices are created on a weekly basis, with all events that finished the previous week (Monday to Sunday). Your invoice will contain the payable amount based on the mark up collected from your attributed orders on the events that finished the previous week. These invoices should match with the deposits we are making to your account weekly.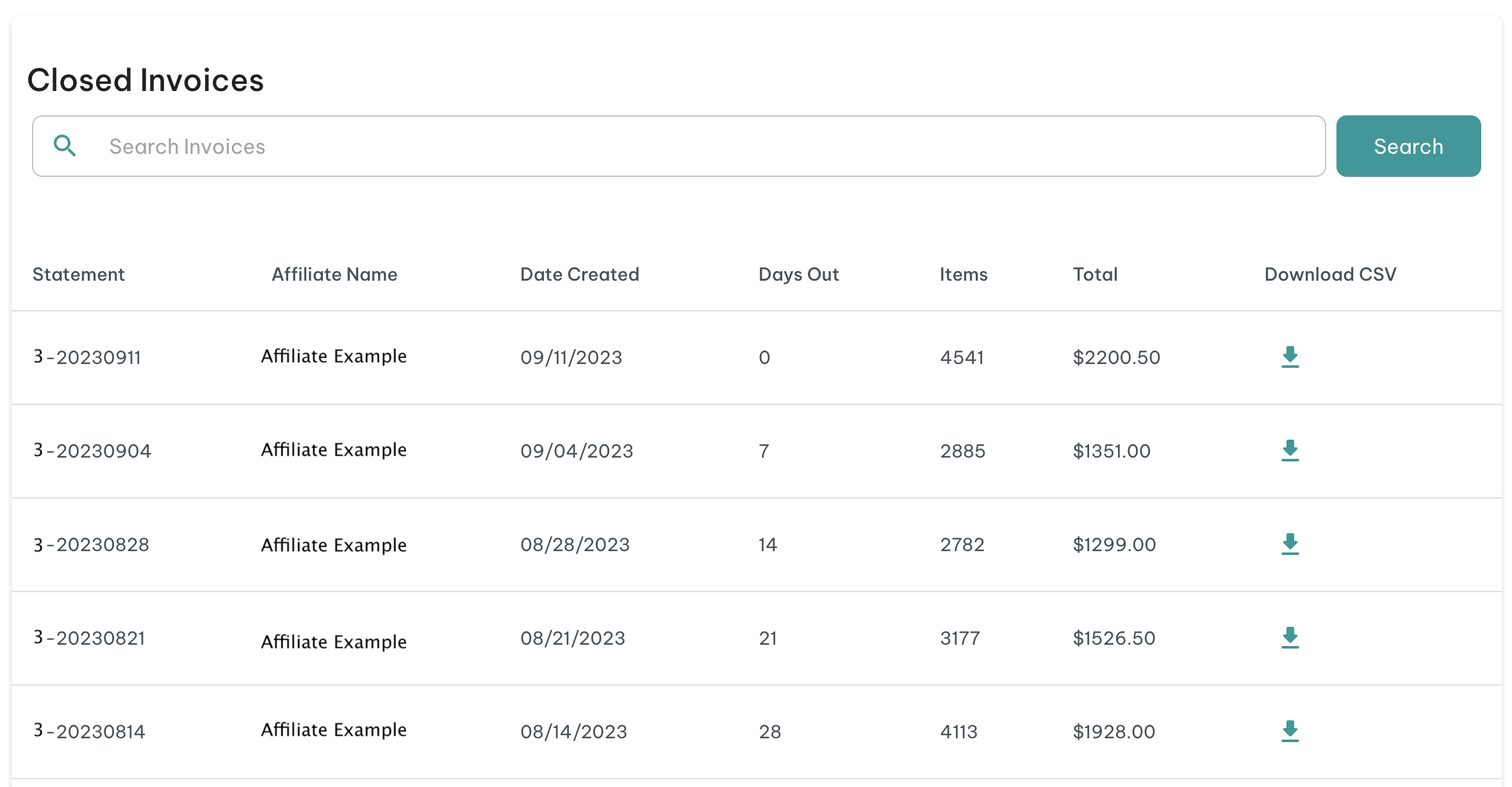 You can also download a CSV version of the invoice.
Definitions:
Item: The definition of the line reported. It can be 3 things:

Affiliate Markup: Which will add the amount earned by that sale.

Refund Affiliate Fee: Which will deduct the amount previously earned, now refunded to the customer.

Chargeback: Which will deduct the amount previously earned, now charge back by the customer.

Date Added: The date on which the sale actually happened.

Description: Event name + See Tickets' "ticket ID number"

Event ID: See Ticket's event ID number

Event Name: Event Name.

Event Date: Event's start date.

Venue: Venue's name.

Amount: Amount earned/deducted.

Currency: Transaction's currency.

Face Value: Ticket price
Settings
On the settings screen, you will be able to review your current markup rate. You will also be able to review your API Credentials, which includes:
Affiliate ID

API Key

API Secret

The API Secret is a one time displayed secret, which won't be displayed anymore after the first time. If for any reason you need to see it, you won't be able to see it and you will need to create a new one.

You can also create multiple API Credentials as well as remove them on demand.