The Guest List Manager helps clients create and manage their guest list, check in, etc.
Get Started
Setting: Event Dashboard > Manage > Guest List Manager
To upload a guest list, click on the Upload a Guest List link.

Upload your guest list in the form of a CSV in the following format.

Fill out the rest of the guest list fields that pertain to your event.
Ticket Type – choose the ticket type you want your guests to receive

Event Delivery Method – select whether you want your guests to receive will call tickets or print at home tickets

Company/Category – add the guest's company or a category (optional)

Offer – add an offer if this guest list is part of an offer (optional)

Internal Notes – add any extra notes to the guest list (optional)

Notify customer via email – will send an email to all customers on the CSV
Manually Add Guest
You can also manually add guests to your guest list.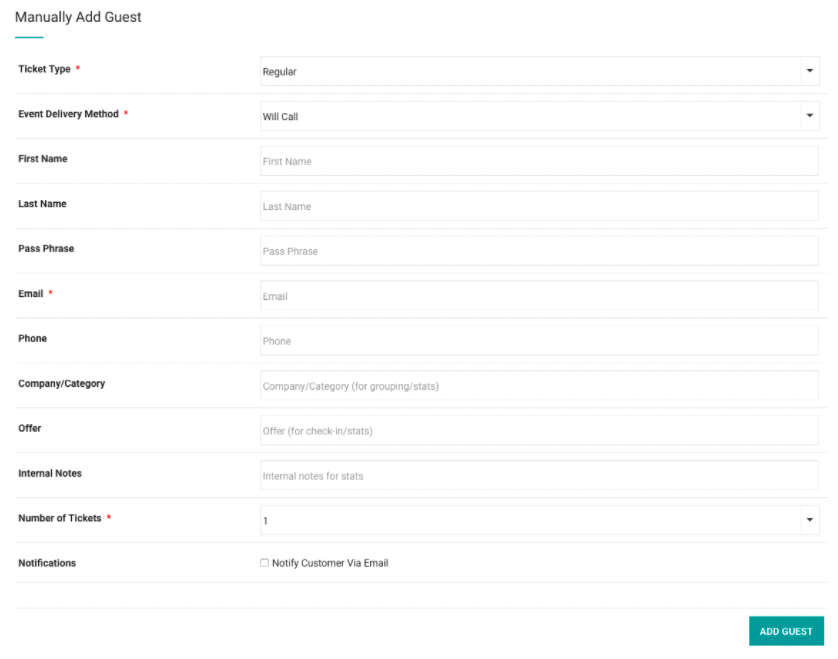 Guests will appear in a list.

Click the 'Download as a CSV' link to download your guest list.

Group Manager
The Group Manager lists all guest list uploads and individual manual guest list customers.

Search by company, category or group ID. You can also email all guests in a group or download the group as a csv.
Stats
View guest list stats on the Stats page. See the scanned, pending and total tickets.
Check In
Check in guest list customers by clicking the Scan/Check In icon.