The event dashboard is your one stop shop for everything event related. At the top, you'll find quick links that make it easy to navigate to frequently used features. To the left you will find your standard sidebar menu with detailed items. Your ticket manager and ticket type actions can be found in the center. Once your event has been created, you can handle all of your ticket type actions from the dashboard.
Top Bar

Event info: event name, event date & time, organizer and location name
Status: active events are live, pending are transitioning from active to pending settlement, pending settlement events are inactive and are waiting for the statement to be created, settled events have completed and a statement has been created.
Processing: this is the gateway the event is using – See Tickets – USD is the default.
Top links: quick links to important pages
Dashboard

Event Edit: brings you back to the edit page
Images: allows you to upload and edit event and receipt images
Live Stats: navigates to the Stats page where you can see ticket sales and customer data
Box Office: takes you to the Box Office for your event where you can sell tickets, set up entry and will call, and run customer service
Copy: duplicates the event (useful for events that happen every week, etc)
View: takes you to the live event page for your event
Make Private: makes event unsearchable on See Tickets and removes it from the RSS feed for affiliates.
Remove From Feed: removes event from the RSS feed for affiliates, phone sales and outlet sales
Ticket Manager
The Ticket Manager is a list of all the ticket types, active or not, separated into ticket groups if those exist.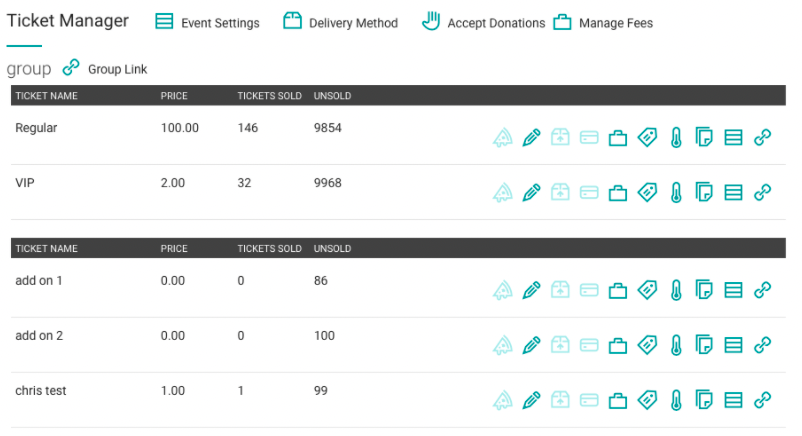 At the top of the ticket manager there are various event level settings:
Event Settings

Delivery Method

Accept Donations

Manage Fees