See Tickets fully integrated promotional tools help you spread the word about your events and sell more tickets using the See Tickets Promote tools. We have linked up with Facebook, YouTube, and Spotify to increase customer engagement.
Publish Event to Facebook
About
The Publish to Facebook feature allows events created on See Tickets to be published directly on Facebook. This tool also helps the See Tickets marketing team create custom audience lists by leveraging data and targeting customers with the same interests as the purchaser. Click-through and sales stats are tracked via the Live Stats Marketing page. This functionality is only activated if the Facebook event is created from the See Tickets platform, which is an important distinction to point out to a participating client.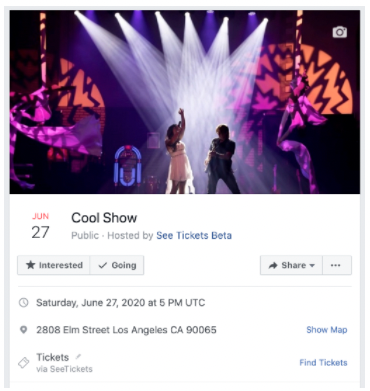 See Tickets events can be published directly to Facebook as a verified "Official Event." Facebook and See Tickets clients can benefit from using this tool in the following ways:
Saves time and resources as it is no longer necessary to have to manually create separate events on two separate platforms.
Links directly to See Tickets ticket pages.
Fans engage with one event instead of multiple versions of the same listing.
Official Events qualify for better search and Newsfeed recommendations.
Facebook offers a full set of features for co-hosts (artists, promoters, venues, etc.) to publicize the event.
Connect with Facebook
Facebook must be connected to be able to use this feature.
Note:
The Facebook account connected must be an admin on a Facebook page in order to publish events to Facebook.

Click on the "Login with Facebook" button. Once the account has been logged in, it will remain logged into Facebook when publishing other events from the connected client account.
Activate and Add Details
Toggle the Facebook Publish setting to On.

Choose which page to publish the event to.

Add associated co-hosts to an event, such as an artist or another promoter. The event will be published on the added co-host's pages, ensuring that fans are interacting with one single event listing.
Note: Any Facebook page can be added as a co-host, so please make sure the correct page(s) are selected before adding a co-host.

Select an image for the Facebook event by either dropping the image into the box or clicking into the box to upload. If no image is selected, Facebook automatically uses the event image added during the event creation process in the original size of the upload.

Publishing to Facebook
Facebook events are published once the event is made public on See Tickets. Click the Save and Exit button at the bottom of the page to complete setup.
To view the event on Facebook open the 'Promote' settings from the See Tickets event dashboard and click "View Event on Facebook".

Events can also be accessed via Facebook directly, by opening the Facebook page and clicking on "Events" or scrolling down to "Upcoming Events".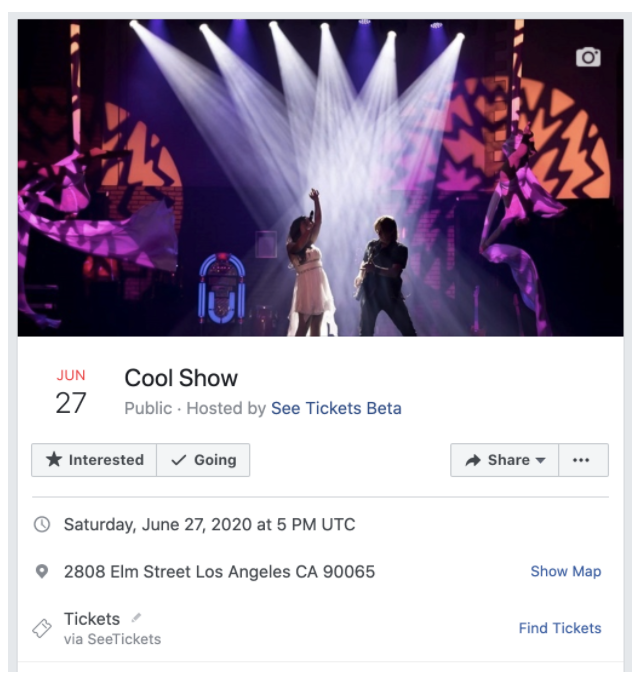 Facebook events list the event name, date, location, and a link to the See Tickets Event Page.
Note: Events must occur within 1 year in order to be published to Facebook
Edit Page Settings
After connecting with Facebook, Page settings can be altered by logging out and logging back in. After logging in, select the Edit Settings button to change which pages are connected with See Tickets.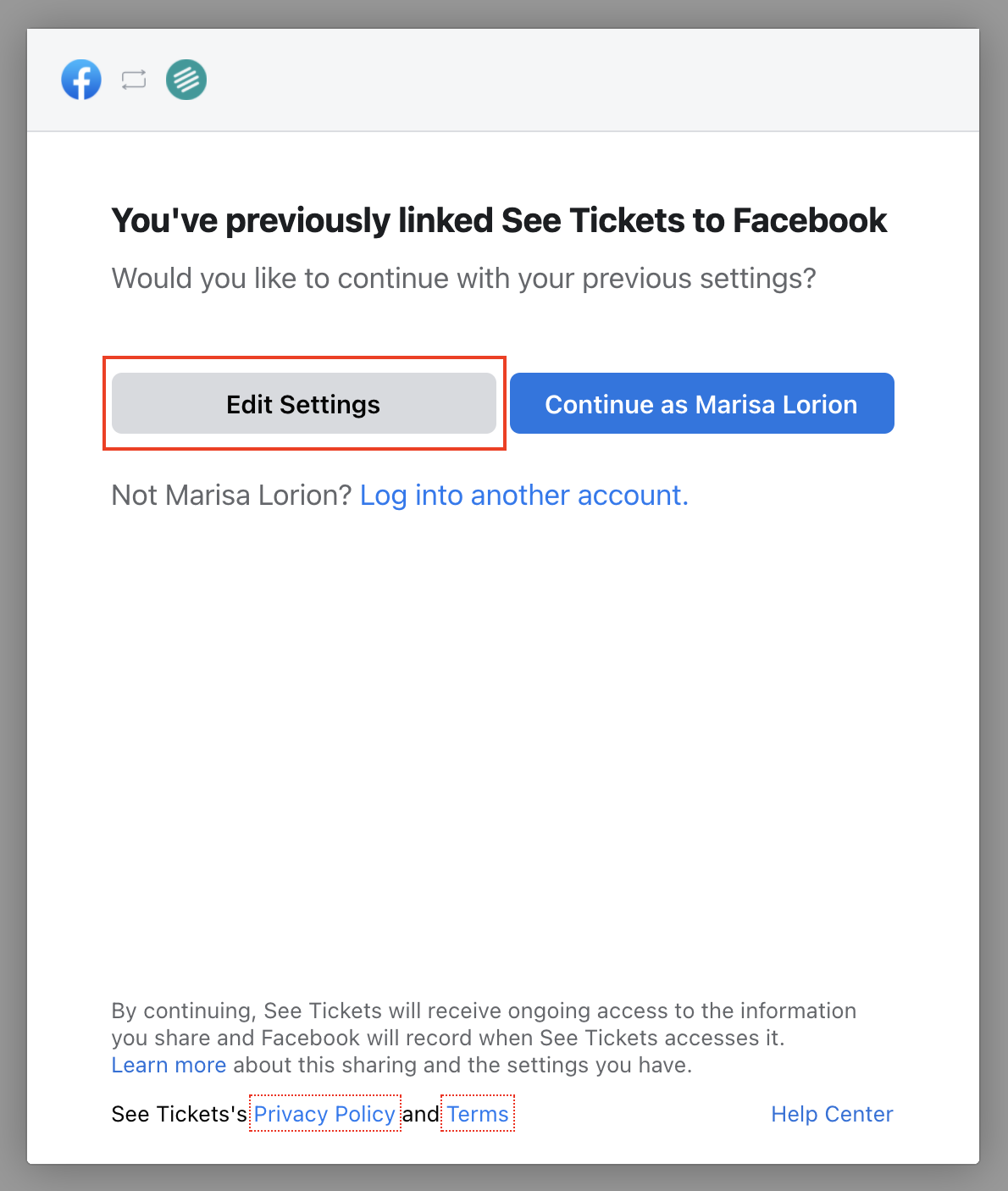 YouTube Event Sync
Events can generate more exposure and sales with the See Tickets YouTube integration. Events listings automatically appear on YouTube videos for artists listed as talent on an event.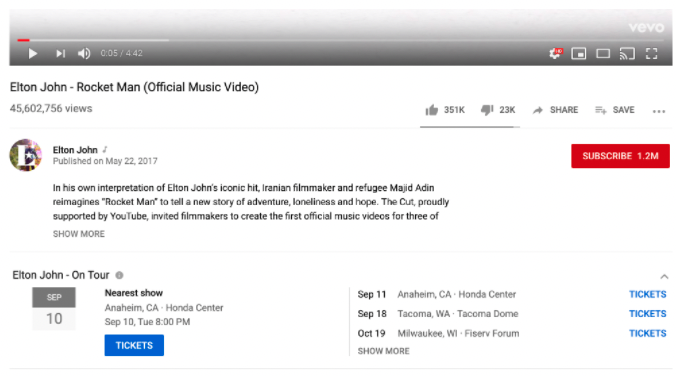 All events on See Tickets are automatically pushed to YouTube. The YouTube toggle default is switched on.
Note: Reserved seating events, free events, and sold out events will not appear on YouTube.
Select an appropriate event category. The categories are provided by YouTube and can not be altered. If none of the categories apply, please select the closest one.

Once the event is made public on See Tickets and has a 'Headliner' and/or 'Supporting Talent' entered, it will appear on YouTube underneath the videos for the respective artists. If no artists are entered, events will not list on artist's YouTube pages.
Why is my event not showing up on YouTube?
Not all YouTube videos will display event links.
Artists may opt-out of displaying events on their video pages at any time.
Ticketing features are not shown to fans watching from mobile browsers or from living room devices.
Sold out events will not be displayed.
Free or $0 events will not be displayed.
On desktop, the ticketing shelf will appear directly underneath the video player. On YouTube Main mobile app, ticketing will appear within the mobile watch feed.
Artist must have a YouTube Official Artist Channel
Artist channel audience must not be set as made for kids
Spotify
Reach an even larger audience with the See Tickets Spotify integration. Your events are pushed through See Tickets artist fields and appear on the artist's Spotify page.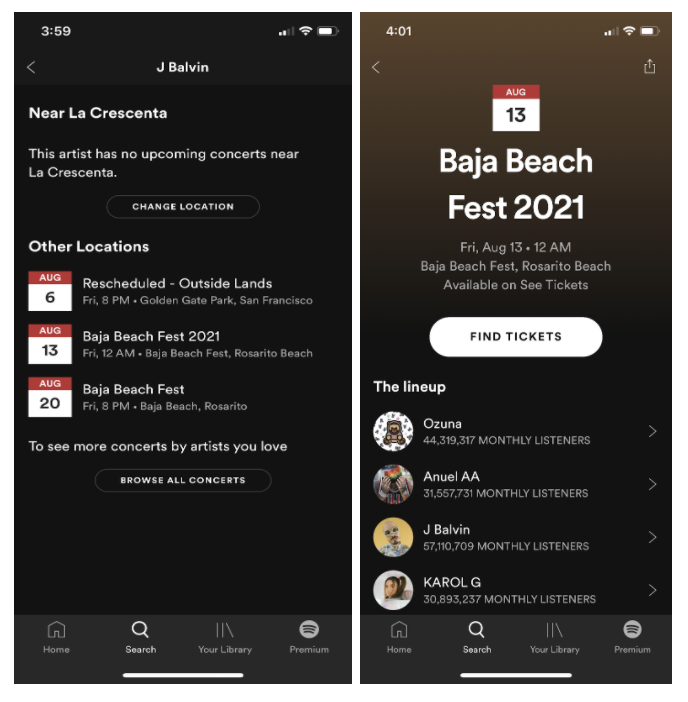 In the Promote feature, the Spotify toggle default is switched on. All public events on See Tickets which list artists in the Headliner and/or Talent fields are will be pushed to Spotify. Events may take 48-72 hours to appear on Spotify.
How to List See Tickets Events with Spotify
See Tickets event listings appear on Spotify artist's pages via an integration between the two sites. Public events with Headliner or Talent fields filled out will appear on that respective artist's Spotify page. Events can take 48-72 hours to appear on Spotify.

Why is my event not showing on Spotify?
Be sure to fill out the talent/headliner fields! Public events with either headliner or talent fields filled out will display on Spotify. If there is no headliner or talent data filled out, there is nothing for Spotify to pick up.
Events need to be public and have the Spotify toggle on from our side.
Only artists selected from the artist dropdown will appear on Spotify. If an artist is not appearing in the dropdown, and a user creates the artist from scratch, they will not appear on Spotify.
It takes 24 hours for new feeds to show up on Spotify (Spotify ingests our feed around 6pm UTC)
Festivals which have multiple headliners may have issues on Spotify.
From the Spotify side, some artists may not want their events showing on their Spotify pages.
Note: For all integrations, events need to be public before they will appear on social feeds. Events do not need to have the 'add to feed' option turned on in order to appear on Facebook, YouTube and Spotify. The 'add to feed' setting is for our affiliate RSS feed only.
Promote Live Stats
Stats for the Promote tool are tracked on the Live Stats > Marketing page. You can see how many customers clicked through to the event page, how many tickets were sold with their value, and how many new customers placed orders from using these tools.

Sales stats can be expanded by ticket type to see an in-depth analysis of the purchase data.